About Cristina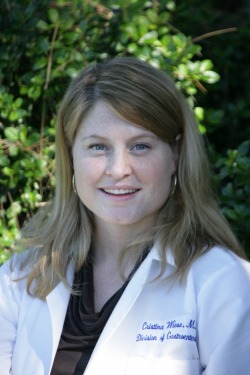 Dr. Cristina Wiese M.D.

is a board certified gastroenterologist and hepatologist with many years of specialty training at Southern California's large academic institutions.

She was raised in Agoura Hills, California and attended UCLA for her undergraduate studies where she graduated with honors in Biology.

Dr. Wiese then graduated from New York Medical College with honors (Alpha Omega Alpha), and completed her Internal Medicine internship and residency at UCLA Medical Center.

After graduation, Dr. Wiese remained at UCLA Medical Center and the David Geffen School of Medicine as a clinical instructor/attending in Internal Medicine.

Her love of gastroenterology and hepatology led to her completion of a gastroenterology fellowship at UCSD Medical Center.

In her final year of training, she was Chief Fellow of the UCSD Gastroenterology program.



Dr. Wiese focuses on personalized care for each patient ---with an emphasis on treating an individual as a whole, as well as treating the particular diagnosis.

She will work tirelessly to establish the correct diagnosis, and to create a comfortable, compassionate environment.

.